Employees can view their annual leave and flexi-time allowances in MyTime
MyTime automatically keeps track of each individual employees annual leave and flex-time and displays these records so employees can easily see how much holiday they have left and what impact scheduling time off will have.
Users must be Employees to view their annual leave and flexi-time allowances.
An overview of the Annual Leave and Flexi-time allowances can be seen in the top right hand of the screen - next to the clock-in/clock-out button - at all times.
This displays your annual leave allowance, and how many days you have left of this and the number of flexi-time hours accrued.
If you have worked less hours than expected your flexi-time allowance will be displayed as a negative number.
To view your records in more depth click on the All Records menu option, this enables you to view all your attendances and absences.

To view your flexi-time report click on the Flexi-Time menu option, you can adjust the time period of the report you view by selecting the relevant dates from the dropdown calendars and clicking Update.
The flexi-time report shows the hours worked, the hours expected and any adjustments added in each week period. To view this report in more detail click View Raw Report button.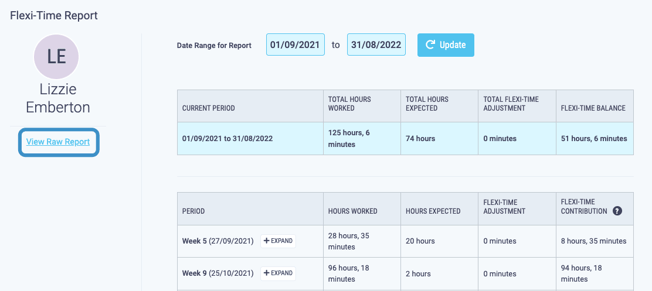 If a week contains no working hours it will not be displayed.