Inputs are commented on in the 'Input Detail' screen.
Making a Comment
Click on the Inputs menu option found at the top right-hand side of the screen.
By default the input's List View will display.
Select the relevant input - you can do this by searching using the Search Filters on the left-hand side of the screen.
Click on relevant input's title to open its Input Detail screen.
To add a comment, type the comment into the Add Comment textbox and click the Add Comment button.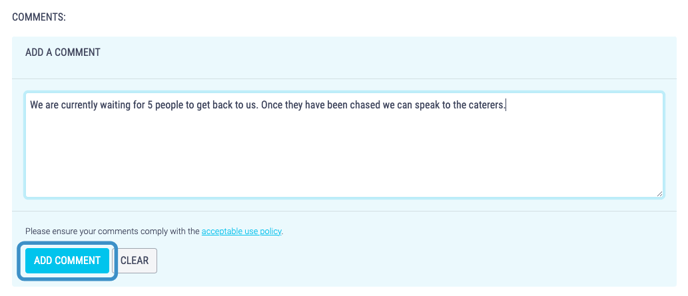 Editing Comments
If having clicked Add Comment you want to edit your comment, click the pencil icon next you your comment, rewrite it and then click the Save Changes button.

Deleting Comments
To delete a comment, click the Delete button next to the comment.

When a comment has been deleted, a box will take its place with the label *This comment has been deleted*. The owner of the original comment will not be displayed, it will instead display Community.
Comments can only be edited or deleted by their Author, a Moderator and the input's Owner.